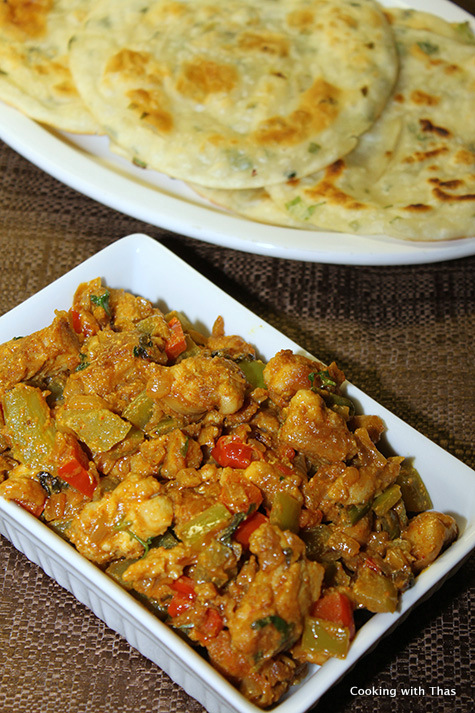 Chicken majestic, a popular spicy and delicious appetizer of Andhra Pradesh…
While browsing for some Indian style chicken appetizer recipes, I came across the recipe for making chicken majestic. At first, the name majestic appealed to me a lot, then the recipe and the look of the dish. I was extremely curious to have a taste of this dish.
Apparently, this is a popular appetizer in Andhra Pradesh. I have never tried this dish at any Indian restaurant nor made by anyone. The preparation method of this dish resembles somewhat to chicken 65 and can be categorized as an an Indo-Chinese appetizer due to the addition of soy sauce and Indian spices.
Traditionally, this dish only has chicken no veggies are added to it. However, I've added red and green pepper as well, and I served this as a main dish along with Chinese green onion pancakes.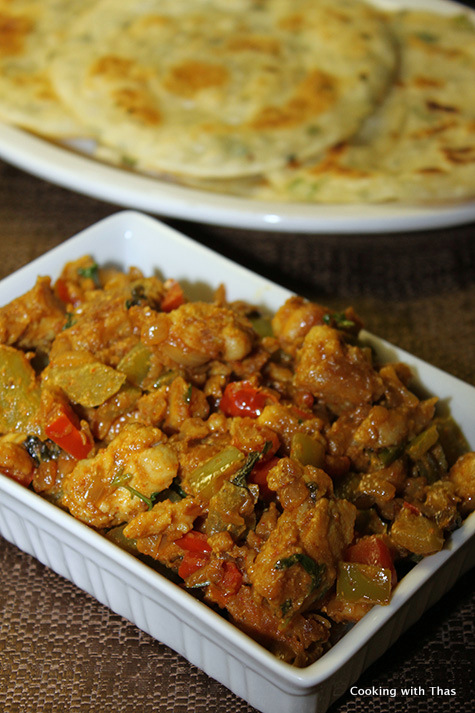 Chicken and Pepper Majestic Recipe
Ingredients
For marinating chicken
Chicken breasts or thighs (boneless), cut into strips or diced small- 2
Ginger-garlic paste- ½ tbsp
Corn starch- 4 tbsp
Egg, beaten- 1
Salt- ½ tsp
While cooking
Oil- 1 tbsp
Garlic, chopped- 2 cloves
Green chili, chopped- 2
Curry leaves- 1 sprig
Mint leaves, chopped- 6 leaves
Turmeric powder- ¼ tsp
Chili powder- 1 tsp
Coriander powder- 2 tsp
Cumin powder- ½ tsp
Salt- ½ tsp
Red pepper, chopped small- ½ of 1 red pepper
Green pepper, chopped small- ½ of one green pepper
Yogurt or curd, beaten well- ¼ cup
Soy sauce, low-sodium- 1 tbsp
Cilantro, chopped- 2 handfuls
Other ingredients
Oil- enough for shallow frying chicken or deep fry the chicken
Instructions
Use either chicken breasts or thighs, cut them into strips or dice them into small pieces.
In a bowl, combine the chicken with all the above mentioned ingredients for marinating the chicken and let rest for an hour.
In a frying pan, add enough oil for either deep frying or shallow frying, fry the marinated chicken till golden brown. Transfer the chicken on a kitchen paper towel and keep aside.
Place another non-stick pan over medium heat, add 1 tbsp of oil used for frying chicken.
Add garlic, saute till golden in color.
Add green chilies, saute for a few seconds.
Add curry leaves and chopped mint, saute for a few seconds.
Add turmeric powder, chili powder, coriander powder, cumin powder and salt. Saute for a few seconds without burning the spices.
Add the chopped red pepper and green pepper, stir fry for a few minutes till they turn slightly soft.
Add the beaten yogurt or curd, combine well.
Add soy sauce, combine well.
Now, add the fried chicken, combine well and stir fry for a few minutes.
Garnish with chopped cilantro, combine well.
Remove the pan from the heat.
Serve this along with rotis, naan, rice etc.
Notes
Adding red pepper and green pepper are optional.

If you are not adding the peppers- after adding the spices, saute for a few seconds, add the beaten yogurt, combine well, add soy sauce and then add the fried chicken. Stir fry for a few minutes and finally, garnish with cilantro.