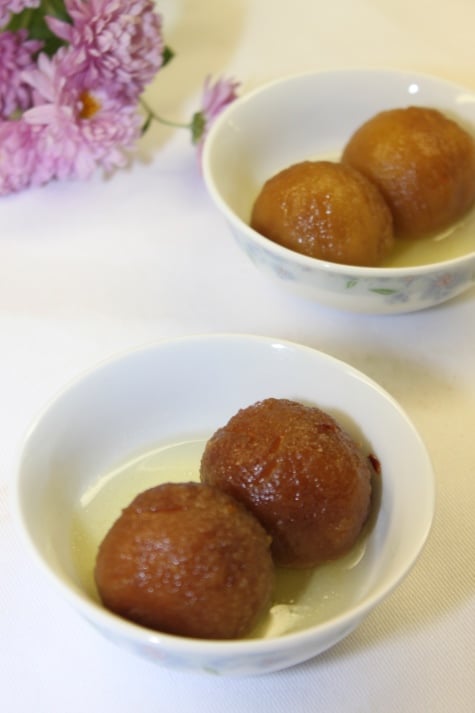 Instant Gulab Jamun made with bread, easy to make and tastes exactly like the authentic Gulab Jamun…
Any dish that's easy to make and calls for a few ingredients gets my attention. This is one such sweet that had been on my to do list for a while and it fits my criteria of being easy breezy and few ingredients.
Gulab Jamun is a popular Indian sweet or dessert and is a showstopper for any occasion. Traditional recipe calls for flour and milk solids-Khoya. However, in this recipe white bread is used to make Gulab Jamun.
Bread is essentially made of all purpose flour, and the bread dough balls are fried. Hence, this will taste very similar to traditional gulab jamuns.
Made with very few ingredients that's always found in our pantry and refrigerator and tastes absolutely delicious. This will make a perfect dessert for any ocassion.
Cooking Video
Instant Bread Gulab Jamun- Easy Bread Gulab Jamun
Ingredients
For making the dough
White bread slices- 6
Milk- 3 tbsp
Ghee- 1 tsp
Oil- enough for frying
Ghee- 1 tbsp
For making sugar syrup
Water- 1 cup
Sugar- 1 cup
Whole cardamoms- 2
Saffron- 2 pinches
Lemon juice- 1 tsp
Instructions
First, let's make the sugar syrup.
Place a saucepan over medium heat: add water, sugar, whole cardamoms and saffron.
Cook, let sugar melt completely.
Add lemon juice, combine well.
Let simmer over low heat for 3 minutes till syrup has thickened slightly.
Remove the pan from the heat and let cool down.
Next, let's make the Jamuns using bread.
Remove the golden brown edges from the bread slices.
Stack the bread slices and cut into cubes.
Add the cubed bread into a food processor and pulse it a few times till bread resembles to bread crumbs.
Transfer the breadcrumbs into a large bowl. Combine the breadcrumbs using your finger.
Add milk slowly and knead the bread crumbs well till it forms soft.
Apply 1 tsp ghee on the palm of your hand.
Make small balls out of the dough. Make sure not to roll the balls too firm, it should be soft without any cracks on the surface. Keep aside.
Place a frying pan over medium heat, let turn hot.
Add enough oil for frying and 1 tbsp ghee; let oil turn hot.
Add the bread balls, 4 at a time without crowding.
Fry over medium heat, keep stirring the balls frequently and let fry till golden brown.
Using a slotted spoon, remove the fried balls from the oil.
Immediately drop the fried balls into the sugar syrup.
Let stand for 15 minutes and then place the gulab jamun along with the sugar syrup in the refrigerator to chill for 1 to 2 hrs.
Serve chilled gulab jamuns in dessert bowls and enjoy. It's absolutely YUM.