UPDATE: The donation has been made, please see the update here.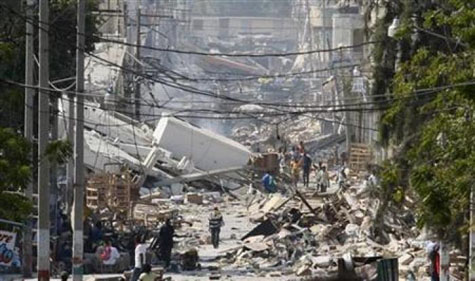 [People walk on a debris-covered street in Port-au-Prince, January 17, 2010. Credit: REUTERS/Daniel Aguilar]
I am going to donate $100 to Haitian Relief via UNICEF.
Here's how you can make it even better with a click:
Become a fan of Cooking with Thas on Facebook or if you're already a fan, suggest to your friends to become a fan of Cooking with Thas on Facebook and if we reach 250 fans by this Sunday, I will send an additional $100 to UNICEF on your behalf. So the total donation amount will be $200. We already have 79 fans, so it's not a long way to go. Every little bit counts. I will share the receipt here after I make the donation. Thank you for your time!
In addition if you would like to donate directly to Haitian Relief, please go here. Your donation will help disaster victims rebuild their lives and their communities.