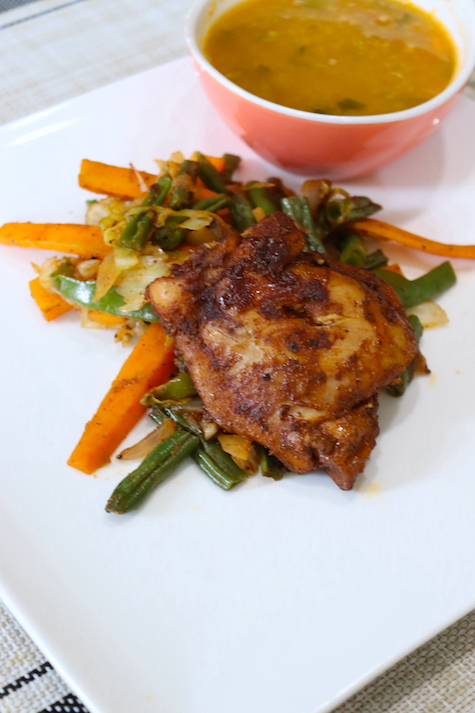 Healthy & comforting lunch or dinner…
Healthy eating is a priority for me, it's all about balance. Being a food blogger I enjoy trying different food & cuisine, but that doesn't mean that I gobble up whatever comes my way.
I follow these:
Portion control, eat in moderation, balanced diet, workout & stay active.
I do have my cheat days as well, that's when I indulge in whatever I crave. After that, I watch out on other days by eating a healthy & balanced diet.
I absolutely don't believe in extreme diets like keto, paleo, etc; they are all fad diets. Of course, if any health issues we sometimes have to follow a certain strict diet. Otherwise, our body needs everything- carbs, fat, sugar & protein, everything in moderation though.
Sharing a healthy, filling & comforting lunch that can be whipped up pretty easily, can be also enjoyed for dinner.
Pan fried chicken thighs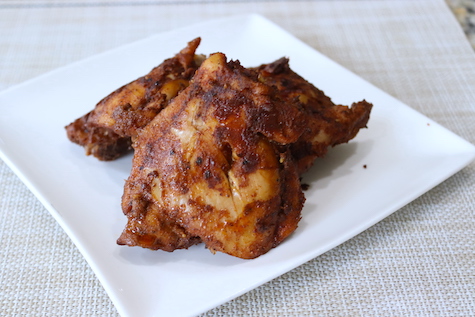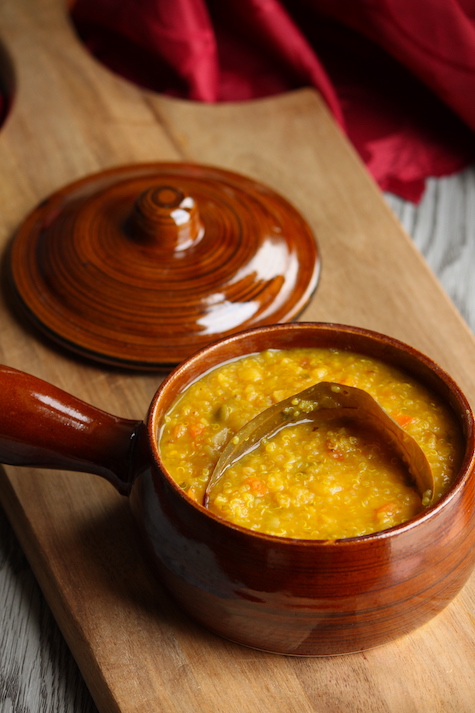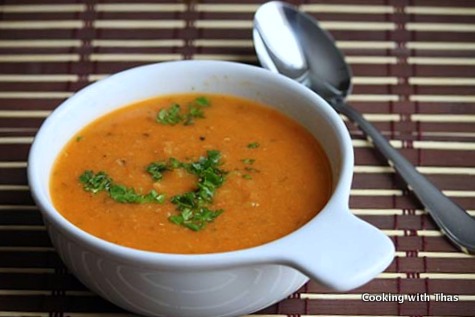 Healthy Pan Fried Chicken & Roasted Veggies | Complete Meal For Lunch Or Dinner
Ingredients
Marinating chicken
Chicken thighs or breast- 4
Ground all spice- 2 tbsp
Paprika- 1 tsp
Ground black pepper- ¼ tsp
Salt- ¾ tsp
For roasting veggies
Onion, sliced- 1
Green pepper, cut into wedges- 1
Red pepper, cut into wedges- 1
Cabbage, shredded- 1 cup
Carrot, cut into thin wedges- 1
Ground all spice- 1 tbsp
Paprika- ½ tsp
Ground black pepper- a few pinches
Salt- ½ tsp
Instructions
In a bowl, combine chicken with the spices & salt, let marinate for 15 minutes.
Either chicken breast or thighs can be taken. Boneless chicken breast is healthy & lean meat.
Place a cast iron skillet or non stick pan over medium heat.
Add ½ tbsp olive oil.
Place the marinated chicken on the pan.
Pan fry the chicken, flipping over a few times till both the sides have turned golden brown.
Transfer to a plate & keep covered.
In the same pan, add all the mixed veggies; cook covered for 3 minutes till veggies start to turn slightly soft.
Add ground all spice, paprika, ground pepper & salt, combine well.
Stir fry over high heat till the veggies start to turn golden brown.
Spread the roasted veggies on a plate, top with pan fried chicken & enjoy.
You can also pair this with quinoa lentil soup or spinach lentil soup or tomato lentil soup, will turn into a complete meal. Enjoy!