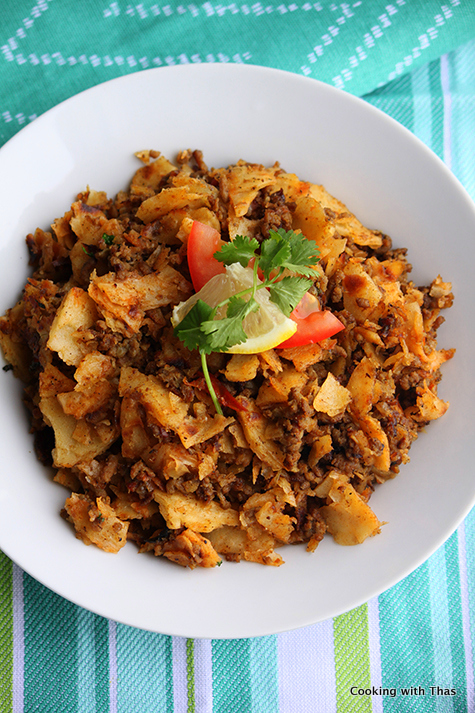 Kerala Parottas are chopped into small slices and stir fried with ground beef or beef Keema, a true South Indian delicacy…
I have to admit that I am not an expert when it comes to making Kerala parottas. Making the perfect parottas require a lot of practice and it's basically an art. The first time I'd made Kerala Parotta from scratch was 3 years ago and it turned out good, I couldn't help but do a happy dance.
Last month on the day before Eid, I had my second attempt at making parottas from scratch and it turned out chewy and hard: I was very much disappointed. I followed a different recipe and I like to blame on the recipe rather than my expertise 🙂
What do you do when you have chewy and hard Parottas??? You turn them into Kothu Parotta. I combined the chopped up parottas with ground beef masala, and was glad that it turned out delicious.
If you want to make eggless parottas from scratch, here is the recipe.
For making kothu parotta, you could even use store bought frozen parottas.
Recipe for making Chicken Kothu Parotta, click here.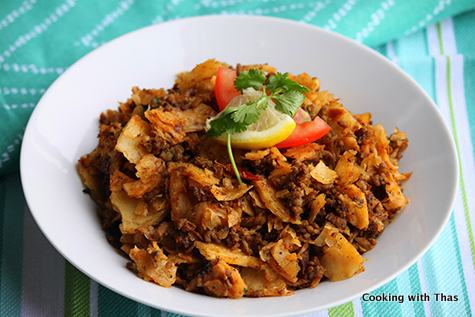 Preparation Picture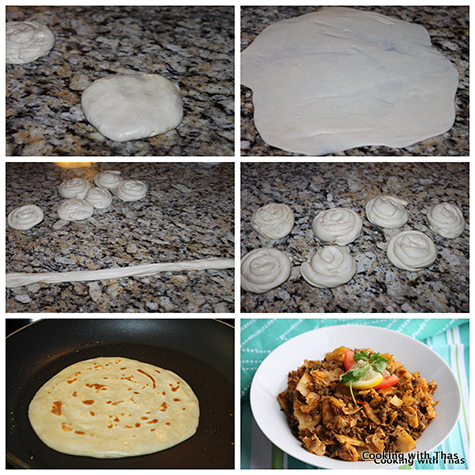 Ground Beef kothu Parotta
Ingredients
Kerala Parottas, chopped- 6
Oil- 2 tbsp
Onion, chopped- 2
Ginger-garlic paste- ½ tbsp
Green chilies, chopped- 2
Curry leaves- 1 sprig
Lean Ground beef- 1 lb or ½ Kg
Chili powder- 1 tsp
Garam masala- 1 tsp
Coriander powder- 1½ tsp
Fennel powder- 2 tsp
Egg, beaten- 1
Cilantro, chopped- 2 handfuls
Lemon juice- 1 tbsp
Salt- to taste
Instructions
Use store bought parottas or make them from scratch.
In a food processor or using a knife chop the parottas into small pieces. Keep aside.
Place a wide no-stick cooking pan over medium heat, add oil.
Add onion, season with salt and saute till translucent.
Add ginger-garlic paste, chopped green chilies and curry leaves, combine well and cook till onions turn golden in color.
Add ground beef to the onions, break the ground beef without any lumps and cook covered till the pink color has faded.
Add chili powder, garam masala, coriander powder, fennel powder and salt, combine well and cook till ground beef has cooked well and starts to turn brown.
Slide the cooked ground beef to one side of the pan. On the other side, add the beaten egg and scramble it. Combine the egg along with the cooked ground beef.
Add the chopped parottas and stir fry with ground beef.
Add cilantro, drizzle with lemon juice, combine well and stir fry for a minute,
Taste and add more salt if needed. If you need it to be spicy add more chili powder according to your preference.
Serve hot along with raita or yogurt.