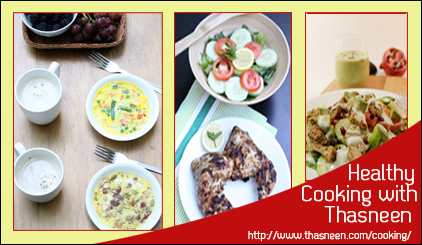 Healthwatchmalayalam.com is the first exclusive health portal in Malayalam launched by DM Foundation. Their mission is to educate and raise the awareness of health and illness among the public. As "prevention is always better than cure". This website does have a wealth of information for all the "why's and how's" that comes to our mind about leading a healthy life. I feel very happy to be featured on their website and to have shared my views about healthy cooking. Since it's a Malayalam website, here I am posting the interview in English so that all my dear readers can read it.
A brief article about cooking healthy:
Cooking healthy is not that difficult. I don't follow a strict healthy cooking all the time, once or twice a week I try to pamper myself with whatever I love. Other days I watch out. Having the same kinds of food over and over is the sole reason that encourages us to dine out more frequently. Try to add variety in your cooking, try different cuisines and ingredients, this way your taste buds would feel refreshed and you'll feel motivated to cook. Never follow an extreme strict diet, as your body needs fat to be healthy. You have to have a good understanding about your body, how it behaves when you intake certain foods and how sensitive your body is. It is very important to identify any food allergies you might have, as the ignorance of it might lead to other diseases.
1. What was the inspiration for you to choose cooking as a passion? Was your mother a great cook?
I grew up having delicious and homely food almost everyday cooked by my mom, needless to say during that time I've never cared how those dishes were made. After I got married and moved to the US, a whole new world in the form of food and cooking opened up. Since then till now I am constantly trying to recreate my mom's taste. Had it not been for her, I wouldn't have developed an interest for cooking in the first place. Besides this, I started exploring various different cuisines; it didn't take too long for me to realize that food world is exciting and incredible. Slowly, cooking added flavor and color to my life, now it's more therapeutic to me. When I explored the fun and artistic side of cooking, it turned out to be my passion.
2. Do you think the online social networking and the blogosphere have made the art of cooking fashionable again, especially among the relatively younger generation?
Without a doubt, online social networking and blogosphere serves as an excellent platform to showcase one's talent and creativity whether it's for cooking or for any other area. The online media has played a key role in portraying the artistic and fun side of cooking, which is encouraging younger generations to approach cooking without much fear. Cooking has definitely become much more trendier and fashionable over the years.
3. Other than Kerala cooking, what other style of cooking is your favourite and why?
I love fusion cooking, so Indo-Chinese cuisine excites me a lot. In Indo-Chinese cooking, both Indian and Asian flavors are incorporated. It's like I am holding onto my comfort zone and still be able to enjoy a different cuisine.
4. Among the various styles of cooking such as Italian, Mediterranean, Indian etc. which is the most challenging to master?
I've tried cooking several different kinds of cuisines. From my experience, the most challenging to master for a novice believe it or not would be Indian cooking especially traditional way of cooking Indian food. As in Indian cooking, we are still bound to make some of the dishes in the traditional way, which needs practice and patience to make it in the right way.
5. From a healthy eating perspective what dish do you recommend to keralites as staple food? (That can be had on a daily basis without compromising health).
Concentrating on one staple food and having it on a daily basis is not a good idea. We need to move out of the staple food concept and focus more on a balanced diet. I believe Kerala food is one of the healthiest, as we include a lot of seafood, vegetables, lentils and yogurt in our diet. Only problem is the way too much consumption of white rice and rice products. Keralites, start their day by having rice products and majority of them wind up the day by eating rice too. Cutting down the amount of rice and including more whole-wheat products, grains and lentils helps in achieving a balanced diet.
6. There is a big controversy about Coconut oil being not so healthy versus Olive oil the choice of healthy eating. What is your opinion and how do both affect the taste of a dish.
This topic is highly debatable. Recently, I read an article, which said that coconut oil is much healthier than olive oil while some researches say olive oil is healthier. Well, in order to benefit out of them, I try to include both olive oil and coconut oil in my cooking. As far as Kerala cooking is concerned, coconut oil has been an unavoidable ingredient and the reason is that it enhances the aroma and the flavor of the dish greatly. So when it comes to Kerala cooking, I tend to use coconut oil especially for sautéing. While, for making non-Indian dishes I go with extra virgin olive oil.
7. What are good alternatives to frying (or other methods to use less oil)?
Baking and grilling. It's undeniable that frying makes everything tasty. However, once you start baking/grilling and when you convince your body about the health benefits of it, the dishes will start tasting better.
8. Can you share a quick and easy recipe that would capture the hearts of adults and kids alike?
Cheese and Egg Crepes, a perfect breakfast or evening snack for both adults and kids that can be made in less than 15 minutes:
9. What is your one absolute sin food?
Tiramisu.
10. Being an upcoming food blogger who has received several recognitions, would you consider culinary art as a profession?
In the near future I have plans to publish a cookbook and down the road I might open up a restaurant.
11. What comment do you have for those men who believe cooking belongs in the women's world :)?
They are being just silly. It's just they haven't tried cooking. Once they enter into the world of cooking I am sure they will change their opinion. Also, most importantly women should give the opportunity for men to enter the kitchen and should not try to be in total control of the kitchen.
12. Does your husband support and participate in your culinary efforts or is he just a silent observer?
He definitely supports and encourages my culinary efforts. More than this he is an honest critic too. My husband is very open to trying different dishes, which has motivated me to explore and experiment with several new dishes. And yes, once in a while he will take over the kitchen and whip up some interesting dishes 🙂
13. Please provide HealthWatchMalayalam.com readers a few tips and tricks on healthy cooking without compromising the taste factor.
 Here are a few tips and tricks that I've been following and I am more than happy to share with the readers.
Use fat-free ingredients wherever it can be used; I haven't found any major taste difference while using it.
Get out of your comfort zone and add different ingredients into your cooking. That way you are getting the health benefits out of them.
Add variety to your cooking by trying different cuisines and recipes. Cooking would seem more interesting.
Reduce the consumption of red meat.
Try to use fresh veggies and fresh ingredients in your cooking.
Reduce the consumption of oil by including baked and grilled dishes into your diet.
Befriend your body and try to explore it. This way you could find out any food allergies you might have. Most of the time, food allergies that you are not aware of may lead to other diseases.
Being healthy doesn't mean that you have to give up all delicious food, once in a week or so succumb to your cravings and other days watch out what goes into your body.
Avoid eating fast food or frozen foods regularly.
Most importantly, there is nothing to replace exercise. Workout, eat healthy and stay fit!