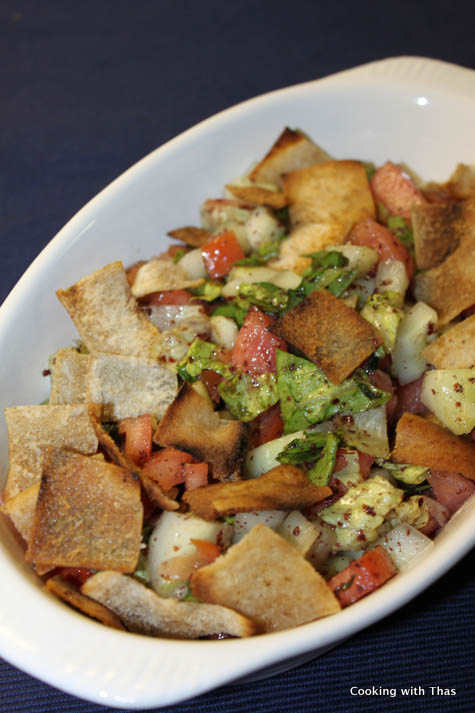 One of my favorite salads, two main stars in this salad are toasted pita bread and Sumac…
I've had this salad quite a few times at many Middle Eastern restaurants and at some get togethers. I don't usually gobble up salads, I go behind real food. However, when I had a taste of this salad I couldn't just stop eating it, I went for a couple more rounds and more. I loved the slight tanginess in this salad from the sumac, the freshness and the crunchy pita bread topped on it.
You need two main ingredients to make this salad. One is Sumac which is ground dried red berries, this is available at Middle Eastern and some Pakistani/Indian stores. Second main ingredient is the toasted or fried pita bread. You could either toast the pita bread with very little oil till crunchy or deep fry it. Fattoush topped with toasted pita bread is truly a delicacy.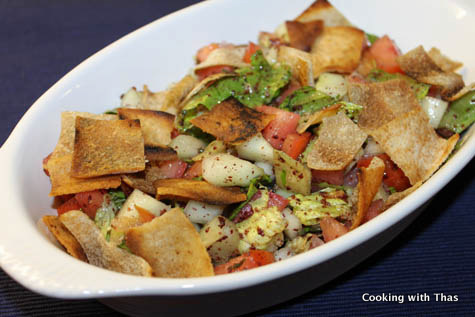 Toasted pita bread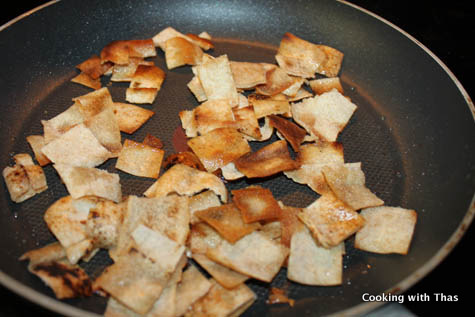 Fattoush - Arabian Salad
Ingredients
Cucumber, chopped small- 1, large
Tomatoes, chopped- 2, large or use Cherry tomatoes
Lettuce, chopped- 1 small bunch
Mint leaves, chopped- 10 leaves
Parsley leaves, chopped- 2 handful
Olive oil- 4 tbsp
Lemon juice- 2 tbsp
Sumac or ground red berries- 2 tbsp
Ground black pepper- ½ to ¾ tsp
Salt- to taste
Toasted or Fried Pita bread- 2, cut into small pieces
Instructions
Cut the pita bread into small slices.
You could either toast or deep fry the pita bread. I toasted the sliced pita bread in 2 tbsp oil till it turned crunchy and golden brown in color. Keep aside.
In a large bowl, combine the cucumber, tomatoes, lettuce, mint and parsley.
In a cup, combine the oil, lemon juice, sumac, ground pepper, salt, shake it well.
Drizzle it over the veggies, combine well.
While serving, top the salad with toasted or fried pita bread.