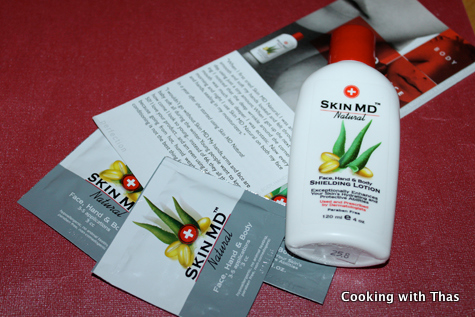 Thanks Skin MD for such a wonderful gift…
Reading the title of this post, don't jump to the conclusion that a food blogger has turned into a Skin care analyst. Here is what has happened. The PR representative at Skin MD mailed me last month introducing their products to me and was interested in sending their products for me to review. I went through their website and did some research about their products. I was impressed by their product reviews and what our skin will benefit out of their products. I also loved the fact that their lotion is vegan-friendly and gluten-free.
"All ingredients are considered to be of food grade and are also on the FDA's most safe list. It is free of harmful fragrances, parabens, and colorants making it hypoallergenic. We don't participate in animal testing nor does the lotion contain any animal products. Our lotion is also vegan-friendly and gluten-free".
I must say that this product reached me at the right time, as in winter my hands get extra dry and rough. After I received this shielding lotion, I have been using this on my hands. I am quite satisfied with the result. It has worked well on my hands protecting it from getting dry and leaving my hands soft and smooth. As soon as I rubbed the lotion into my hands, I felt my hands instantly moisturized without making it greasy and oily. After using this for the last couple of weeks, I can really feel the difference in my hands. My hands are now just the way it would be in summer.
For more information, please check their website: http://www.skinmdnatural.com
They are also interested in giving out an additional full-sized bottle to one of my readers. They will ship the product directly to the winner. Here is what you have to do to participate in this give away:
Leave a comment on this post and let me know whether you want to try this product.
It will be a random pick.
Contest ends on March 12th.