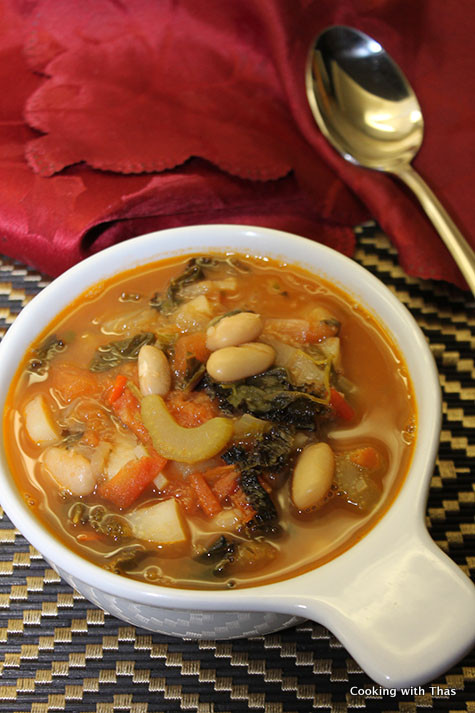 Minestrone soup, so much warmth and comfort in a bowl of this homemade hearty soup…
Vibrant and colorful Fall has faded already and the temperature has started to drop. Weather is quite unpredictable these days, it will be cold one day and the next day it will be mildly warm and sunny. I am not a bit complaining about the warm/sunny weather. Taking full advantage of the sunny and warm days we are having this month before the freezing weather hits us real hard. I adore the combination of freshness and chillness in the air during Fall and it's the best time for hiking and running. Luckily, a couple of beautiful trials are only minutes away from my house and I'll be seen exploring and embracing the woods during weekends. For me, the ultimate relaxation is when I am with Nature!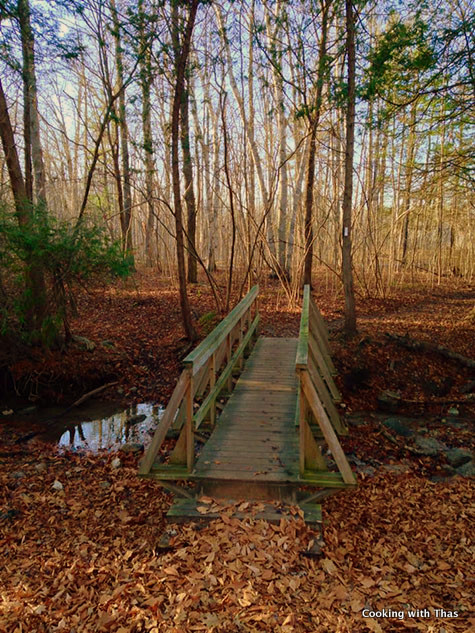 Today was a cold day, after reaching home from work I didn't feel that great and wanted to be comforted, cuddled and pampered. I truly hoped my Man would do all these for me. But in vain, he was feeling more sick than me and he cuddled under the blanket…Sigh!
That's when I thought, if there is something than can provide me with the needed warmth and comfort it will be a bowl of homemade hearty warm soup. Though lazy, I dragged myself into the kitchen and started making one of my favorite soups: Italian Minestrone soup.
In Fall and Winter, I make variety of soups and I break all kinds of culinary rules while making soups. I throw in different kinds of ingredients into the soup pot and the end result has always been remarkable. So this time, to my Minestrone soup, I added chopped red kale leaves, onion, potatoes, celery, white kidney beans and tomatoes, seasoned the soup with fresh rosemary, ground pepper and salt.
While making this soup, the aroma from the rosemary leaves spread the entire kitchen and I was starting to feel better. As I sipped the soup, I felt comforted and loved. Perfect soup for Fall and Winter.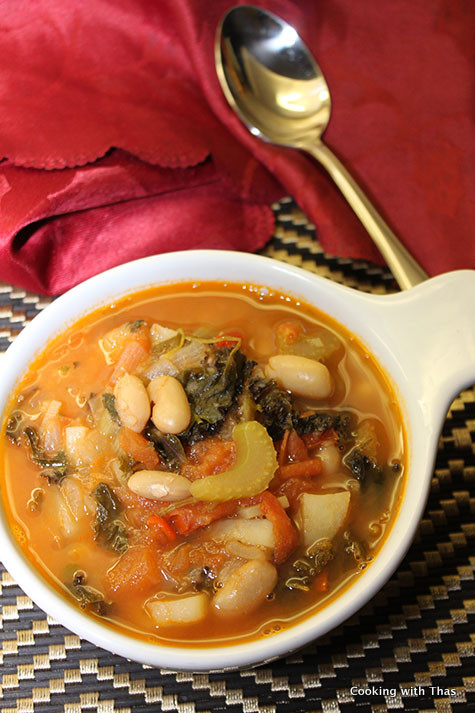 Minestrone Soup - Italian Soup
Ingredients
Olive oil- 2 tbsp
Onion, chopped- 1
Celery, chopped- 3 stalks
Garlic, minced- 2 cloves
Fresh Rosemary- 2 sprigs
Cayenne pepper- 1 tsp (or use chili powder for spice)
Potatoes, diced small- 2
Tomatoes, chopped- 3
Kale leaves, coarsely chopped- 3 big leaves
White Kidney beans, rinsed and drained- 1 can (15 to 19 oz)
Chicken or vegetable broth- 4 cups
Tomato paste- 3 tbsp
Parsley, chopped- 1 handful
Freshly Ground pepper- ½ tsp
Salt- to taste
Instructions
Place a soup pot over medium heat. Add olive oil.
Add onion, celery, garlic and fresh rosemary, combine well and cook till onions turn translucent for 7 to 8 minutes.
Add potatoes and kale leaves, saute for 2 minutes.
Add tomatoes and cook covered for 5 minutes till tomatoes are cooked well.
Add cayenne pepper or chili powder, combine well.
In a food processor, puree ½ cup of the white kidney beans along with ¼ cup chicken or vegetable broth till smooth.
Add the pureed beans to the soup pot. Combine well.
Add the remaining 3½ cups of broth and tomato paste. Combine well.
Cover the pot and simmer till potatoes have turned tender for 15 minutes.
Add the remaining whole white kidney beans and parsley. Combine well.
Season with ground pepper and salt.
Cook for 10 more minutes till the beans have cooked through and the soup has slightly thickened.
Remove the rosemary stem from the soup.
Serve in soup bowls and enjoy the warmth and comfort from this soup.
Notes
If you want, just before serving you could garnish the soup with grated parmesan cheese.