Chutney is a condiment that originated in the Indian subcontinent and is widely used in Indian cuisine. It is a versatile accompaniment that adds flavor and zest to a variety of dishes. Chutneys are typically made by grinding or blending various ingredients together to create a thick, flavorful sauce-like consistency.
There are numerous types of chutneys, each with its own distinct flavors and ingredients. Some popular varieties include tomato chutney, coconut chutney, mint chutney, tamarind chutney, etc.
In South India, chutney is a popular dish enjoyed with dosa, idli & appam.
The other day when I made chutney I literally added many ingredients like coconut, tomato, mint leaves & raw mango & it turned out awesome.
Instead of tamarind, I've added raw mango which imparted the needed sour taste. I was able to get the taste of everything & I enjoyed this chutney with appam.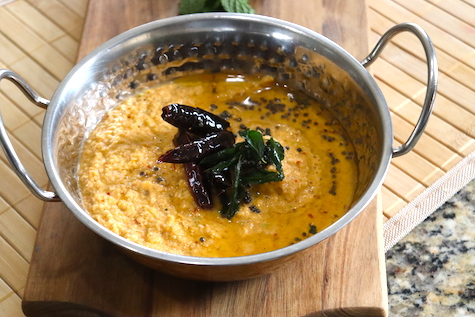 Coconut Tomato Mint Raw Mango Chutney | Kerala Recipe
Ingredients
Coconut, grated- 1½ cups
Fresh ginger- 1-inch slice
Tomato, chopped- 1
Dried red chilies- 3
Cumin seeds- 1 tsp
Fresh mint leaves- 5 leaves
Raw mango, diced- ½ of a raw mango
Water- ½ cup
Salt- 1 tsp
For tempering
Coconut oil- 2 tbsp
Mustard seeds- 1 tsp
Dried red chilies, halved- 2
Curry leaves- 10 leaves
Instructions
Place a pan over medium heat, add coconut, ginger, tomato, dried red chilies & cumin seeds; roast the coconut for 4 minutes.
Don't have to roast till the coconut turns brown.
Add the fresh mint leaves & raw mango, roast for 3 minutes.
Let cool down, add to a blender jar along with ½ cup water & grind to a coarse smooth paste.
Transfer to a bowl, add salt & combine well.
For making the tempering, place a frying pan over medium heat, add coconut oil. Let turn hot.
Add mustard seeds, let them splutter.
Add dried red chilies & curry leaves, fry for a few seconds.
Pour the tempering over the chutney.
Enjoy with dosa, idli or appam.