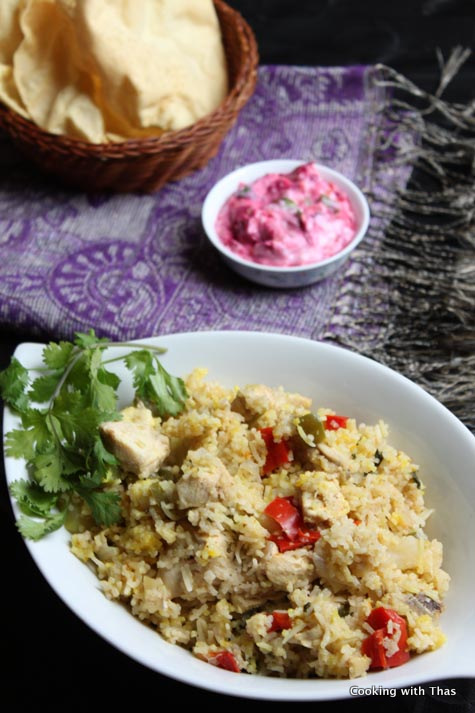 Easy, flavorful one pot meal that can be made ahead of time…
Hope everyone is staying calm and safe in Boston, Middle East and India. My heart goes out to all the innocent victims in Boston. Natural calamities are hard to avoid (though nowadays most are the impact of human activities) But the destruction and pain that's caused by humans to fellow humans can be absolutely avoided yet it's happening in full swing. It's a beautiful world, hope peace prevails!
Yesterday was one beautiful sunshine day, it was 20 degrees C. I eagerly waited since early noon to get out of my office and to feel the Sunshine and to roam around without being cuddled up in a jacket. After reaching home, I roamed around in the backyard and gazed at the dried garden. The grass has started turning green, but none of the plants in my garden have picked up the pace. Hopefully soon I can see blooms in my garden.
Amidst the dried graden, I saw a colorful lady bug cuddled to the branch. It was so tiny and beautiful.
Last Sunday, I made this chicken pilaf as this dish is a one pot meal that can be served with raita, pickle or pappadum. In fact, on that day my mom and my sis had made biryani, after talking to them I did get a sudden craving for biryani. It was a bit late for me to whip up biryani so I made this easy chicken pilaf.
Biryani is much more flavorful, more ingredients are added and calls for a long cooking time. While for making pilaf, less ingredients are added in which everything is cooked together in a pot. It was flavorful and the leftover pilaf tasted so tasty. I served the pilaf along with beetroot-carrot raita, I loved the pink color of raita imparted by the beetroot.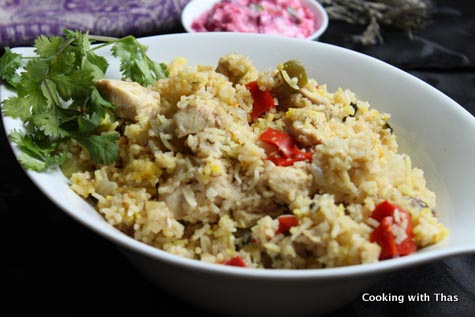 Chicken Pilaf or Pilau and Beetroot-Carrot Raita
Ingredients
Oil-1 tbsp
Ghee- 1 tbsp
Whole Cardamom- 2
Whole cloves- 2
Cinnamon- 1 inch slice
Bay leaves- 2
Onion, chopped- 1
Ginger-garlic paste- 1 tbsp
Green pepper, chopped- 1
Red pepper, chopped- 1
Peas- ½ cup
Potato, cubed- 2
Coriander powder- 1 tsp
Chili powder-1 tsp (or depending on your spice level)
Fennel powder- 1 tsp
Garam masala- ¼ tsp
Turmeric powder- ¼ tsp
Chicken, cubed- 3 chicken breasts
Cilantro, chopped- 2 handful
Mint leaves- 6 to 8
Basmati rice, rinsed- 2 cups
Chicken stock- 1½ cups
Water- 1½ cups
Saffron- 2 pinches, soaked in 1 tbsp water
Salt- to taste
Instructions
Place a large non-stick pan over medium heat, add oil and ghee.
Add whole cardamom, cloves, cinnamon and bay leaves, saute for a few seconds.
Add onion, saute for a few minutes.
Add ginger-garlic paste, saute for a couple of minutes.
Add chicken, cook for 5 minutes.
Add chili powder, turmeric powder, coriander powder, fennel powder, garam masala and salt, combine well.
Add chopped green pepper, red pepper, peas and potato, combine well with the chicken.
I didn't add peas, if you have peas do add it.
Add cilantro and mint, combine well.
Drizzle saffron soaked in water over the chicken and veggies.
Add chicken stock and water, let come to a boil.
Add rinsed basmati rice to the water, cover the pan and cook for 20 minutes or till rice has cooked through.
Don't over cook the rice as it will turn mushy.
Taste and add more salt if needed.
Beetroot-Carrot Raita
Beetroot-Carrot Raita
Ingredients
Beetroot, grated- 1, small
Carrot, grated- 1, small
Green chilies, chopped- 1
Cilantro, chopped- 2 handful
Yogurt- 1½ cups
Salt- to taste
Instructions
Grate the beetroot and carrot.
In a bowl, combine all the ingredients and serve with the chicken pilaf.