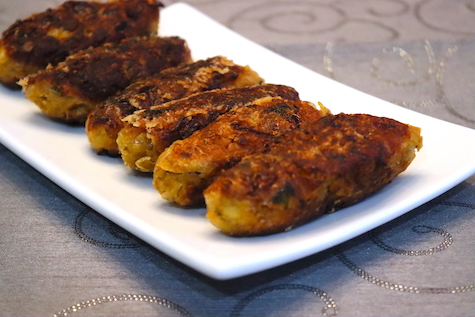 Chicken masala turned into cutlet kabobs…
When it comes to chicken snacks, I always make a large batch of make-ahead chicken filling, store it in the refrigerator & then I turn them into different kinds of snacks.
A variety of snacks can be prepared out of the chicken filling.
This time I made the cutlet kabobs. It's basically like making cutlets, however, in this one I've added the egg & breadcrumbs to the chicken filling, rolled the filling & pan-fried it.
Easy to make & delicious chicken snack.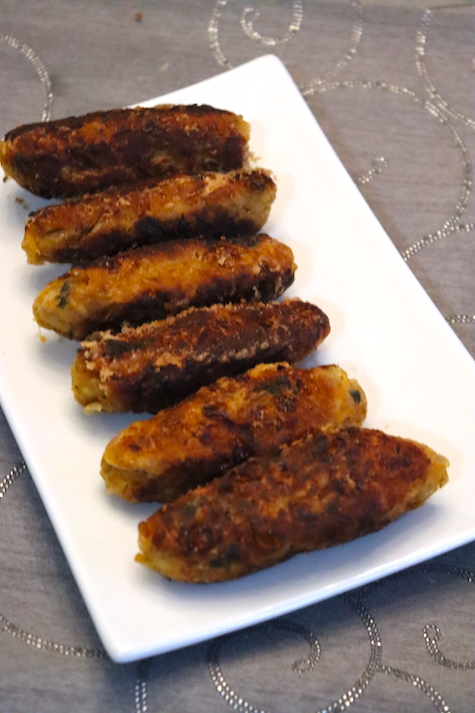 Chicken Cutlet Kabobs | Easy Recipe
Ingredients
For cooking chicken
Boneless chicken, chopped small- 2 chicken breasts or thighs, around 3 cups
Chili powder- 1 tsp (based on your spice level)
Turmeric powder- ⅛ tsp
Coriander powder- 1 tbsp
Garam masala- 1 tsp
Salt- 1 tsp
For making the filling
Oil- 2 tbsp
Onions, chopped small- 3, large-sized
Ginger-garlic paste- 1 tbsp
Green chilies, chopped- 1 or 2 (optional)
Cilantro, chopped- ¼ cup
Salt- ¾ tsp
For making cutlet kabobs
Egg- 1
Breadcrumbs- ½ cup
Cornstarch slurry- 2 tbsp mixed with 3 tbsp cold water
Oil- for pan-frying
Instructions
Let's first make the chicken filling.
In a saucepan, combine the chicken with all the above-mentioned ingredients "for cooking chicken". Don't have to marinate the chicken.
You can literally add any kind of spices that you like.
Close the saucepan with a lid & cook covered till the chicken has cooked well & all the liquid has dried out.
Stir fry over high heat for a couple of minutes till the chicken turns light golden brown, this will give a nice fried taste to the chicken.
Take the pan off the heat & let the chicken cool down.
Shred the cooked chicken.
Cooked chicken can be stored in the refrigerator for a few days.
Place a wide pan over medium heat, add oil, let turn hot.
Add onions chopped small, season with salt & combine well.
Add ginger-garlic paste, and green chili; saute till onions turn golden brown in color.
Add the cooked shredded chicken to the onions, stir fry for a few minutes.
Have a taste, add more salt or chili powder/ground black pepper for heat if needed.
Add cilantro, saute for a minute.
Remove the pan from the heat, keep aside.
Double or triple this recipe, store the chicken filling in an air-tight container and keep refrigerated for a week or freeze small portions in separate ziplock bags for up to a month.
Making the cutlet kabobs
I've only used half of the chicken filling for making the cutlet kabobs.
To the chicken filling, add 1 egg & ½ cup breadcrumbs; combine well.
If using the entire chicken filling, you have to add 2 eggs & 1 to 1½ cups breadcrumbs.
Roll the chicken mixture into oval shapes or round shapes, keep them aside. The rolls can be made ahead of time & stored in the refrigerator for a couple of days or in the freezer for a month.
To a bowl, add cornstarch & add cold water, combine well.
Place a pan over medium heat, add oil for pan-frying.
If you prefer you can also deep fry the kabobs.
Dip the rolls in cornstarch slurry & place them in oil.
Pan-fry till all the sides have turned golden brown.
Cornstarch will make the outside of the kabobs really crispy.
Transfer to a plate.
Enjoy with tomato ketchup or any sauce of your choice.