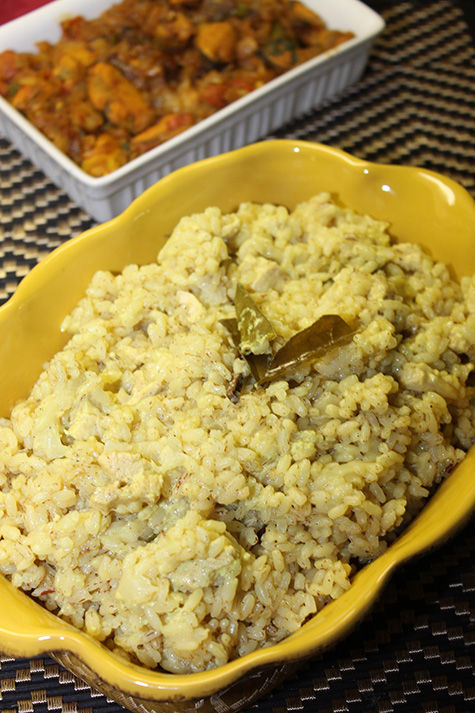 Coconut rice or Thengachor is one of my favorites, when chicken is added, it got even more delicious…
Coconut rice without the addition of chicken is often made in my mom's family. After she got married, she taught everyone in my dad's family to make this. Without any doubt, my mom makes the best tasting coconut rice. It tastes incredible when served with chicken or mutton curry. Yet another combination I love is coconut rice when served with lentil curry (parippu curry) and chammanthi, I would say this is a simple, humble yet divine comfort food.
I had the craving for coconut rice a couple of days ago. Since, my man wants to have the bite of chicken in most dishes, I was forced to add chicken to the coconut rice. This was the first time I'd added chicken and have to tell you that we loved it so much. My man and I devoured it happily. I wanted some extra kick so I had it with mango pickle.
While devouring Chicken Coconut rice and pickle for lunch, I was reminded of how my mom used to wrap coconut rice (thangachor), lentil curry (parippu curry) and Chammanthi in plantain leaves.
When growing up, for big fat family picnics, my mom would wake up early in the morning, cook and make a food pack for each person. After all the fun, we would be extremely hungry and every one would line up and rush (just like Black Friday shopping) to get the food pack. We would sit in a large circle and would gobble up with so much greed (literally). The aroma of the coconut rice after being wrapped in banana leaves is beyond amazing. That taste still lingers in my mouth. I call that simple, humble yet divine comfort food. How I wish I could recreate that scene one more time with my family.
I've already shared the recipe for making coconut rice. In this recipe chicken is also added. This makes a perfect one pot meal and can be served with pickle. If you prefer, you could even serve lentil curry, tastes amazing.
Curries that can be paired with coconut rice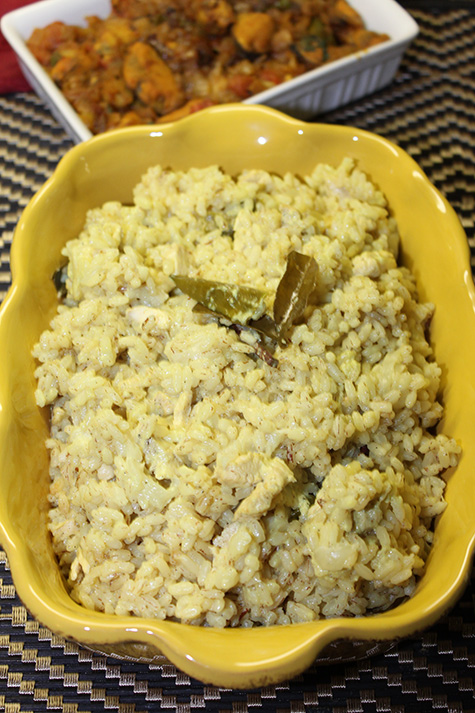 Chicken Coconut Rice Recipe (Erachi Thengachor)
Ingredients
Chicken breasts, cubed- 2 breasts
Coconut oil- 2 tbsp
Onion, chopped- 2
Ginger-garlic paste- ½ tbsp
Green chili, halved- 3
Curry leaves- 1 sprig
Whole Cinnamon- 2 inch slice
Ground pepper- 1 tsp
Turmeric powder- ¼ tsp
Coconut milk, thick- 3 cups ( 2, 400mL cans)
Water- 1¼ cups
Rosematta rice or Matta rice, rinsed in water- 2½ cups
Salt- to taste
Instructions
You have to use Rosematta or Matta rice to make this dish, other white rice wouldn't give the right taste.
Wash the rice taken in a sieve under running water, keep aside.
Place a pressure cooker over medium heat, add coconut oil.
Add cinnamon, saute for a few seconds.
Add onion, curry leaves, green chilies and salt, saute for a few minutes.
Add ginger-garlic paste, saute for a couple of minutes.
Add chicken (I used boneless chicken breasts, if you prefer you could add bone in small pieces), season with ground pepper, salt and turmeric powder.
Cook chicken for a few minutes.
Pour coconut milk and water. Let it come to a slight boil.
Add the rice to the liquid. Combine well.
Taste and add more salt if needed.
Cover the pressure cooker and place the whistle on it.
Let it cook till 2 whistles.
As soon as you get the 2nd whistle, remove the cooker from the stove and let the pressure subside.
Open the lid and combine the rice using a spatula or fork.
Serve hot along with pickle or lentil curry.
Notes
Do not over cook, as the rice at the bottom of the cooker will get burned.