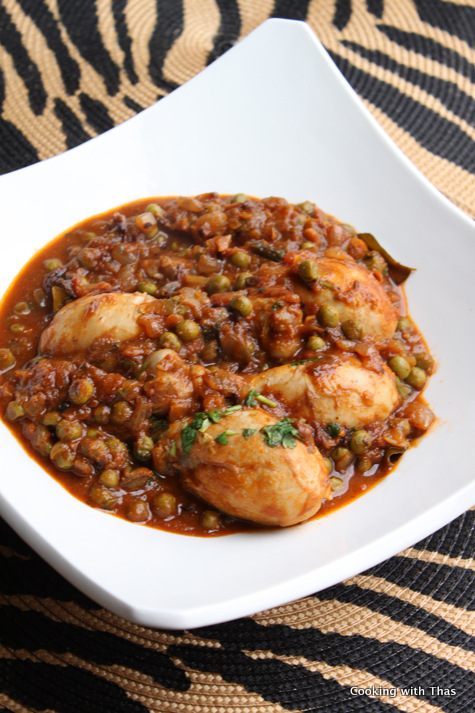 A finger licking curry, and Yes chicken and peas gets along so well…
Don't you all think this week is quite a drag??? Finally, Wednesday is coming to an end. I had a long busy day, wrapped up this day by practicing Golf for the big tournament on Saturday. A few months ago, I'd thought that Golf was such a boring sport. It didn't take too long for me to change this opinion; I started playing Golf a few weeks ago and found it to be interesting and relaxing. Yet again I learned that without really knowing about something we shouldn't come to a conclusion. Looking forward to having some fun at the Golf tournament.
I made this chicken and peas curry last weekend, one of the best tasting curries I had in a while. I adore the combination of peas and chicken, they both compliment each other a lot. Made a very aromatic and flavorful gravy, cooked the chicken and peas in it and a delicious curry was served.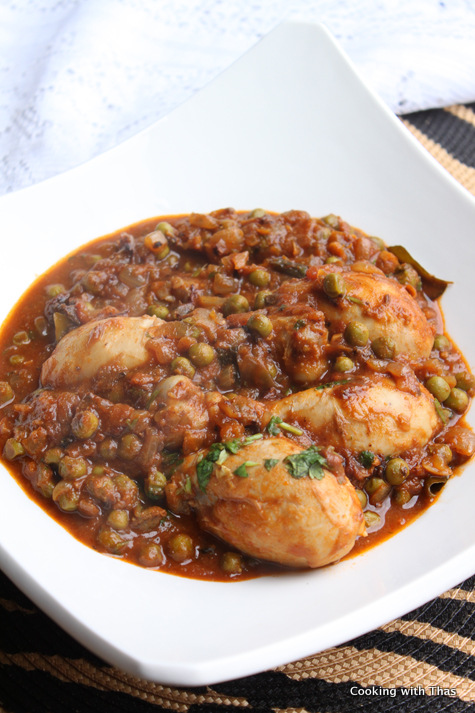 Preparation Pictures
After adding peas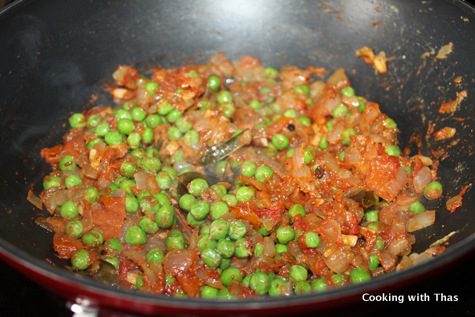 Cooking with chicken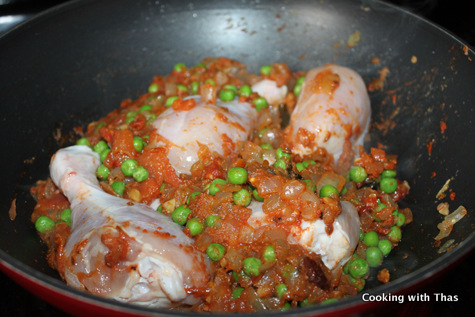 Chicken and Peas Curry - in Tomato Sauce
Ingredients
Oil- 2 tbsp
Cardamom, whole- 2
Cloves, whole- 2
Cinnamon- 2-inch slice
Whole black pepper corns- 5
Cumin seeds- ½ tsp
Ginger, chopped- 2 inch slice
Garlic, chopped- 1 large clove
Green chilies, chopped-2
Curry leaves- 1 sprig
Onion, chopped- 1 large
Tomatoes, chopped- 2
Kashmiri red chili powder- 1 tsp (for more spice add regular chili powder)
Coriander powder- 1½ tsp
Fennel powder- 1 tsp
Ground cumin- ½ tsp
Garam masala- ½ tsp
Tomato paste- 3 tbsp
Peas, frozen/thawed- 1 cup
Chicken legs or bone in pieces- 5 to 7 pieces
Salt- 1½ tsp
Cilantro, chopped- ¼ cup
Instructions
Place a large saucepan over medium heat, add oil. Let oil turn hot.
Add whole cardamom, cloves, cinnamon, pepper corns and cumin seeds in the oil, saute for a few seconds.
Add chopped ginger and garlic into the oil, saute till they turn light golden in color.
Add green chilies and curry leaves, saute for a second.
Add onion, and a few pinches of salt, cook till onions turn light golden in color.
Add tomatoes, cook till they are mashed up.
Add chili powder, coriander powder, fennel powder, ground cumin and garam masala, saute for a minute.
Add tomato paste, combine well.
Add ¼ cup water to thin down the gravy.
Add peas and chicken to the gravy, add salt to taste and cook covered till chicken has cooked well.
If the mixture gets dry, add some more water and cook.
After the chicken has cooked well, uncover the pan, have a taste add more salt if needed.
If the gravy is too thick add some water to thin it down. The gravy should have thick constituency.
Sprinkle cilantro over the curry, cook for a minute and remove the pan from the heat.
Serve this curry with Naan, chapati, rice etc.