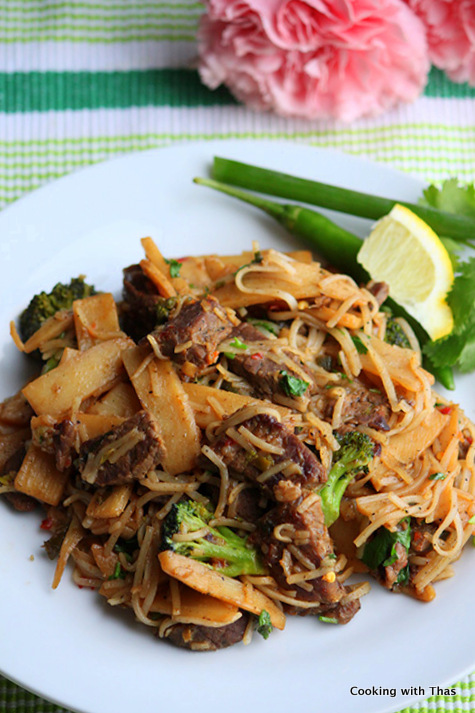 Beef strips, veggies and noodles stir fried together, delicious one pot meal…
I'm a huge fan of stir fries and I do have a soft corner towards beef and noodle stir fries. Whenever I buy beef strips I will be seen making this dish. I perk up the flavor of this dish with Asian sauces and seasonings. Beef strips, veggies and rice noodles when stir fried together makes a delicious one pot meal.
Preparation Pictures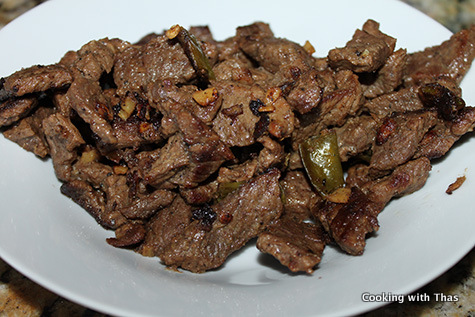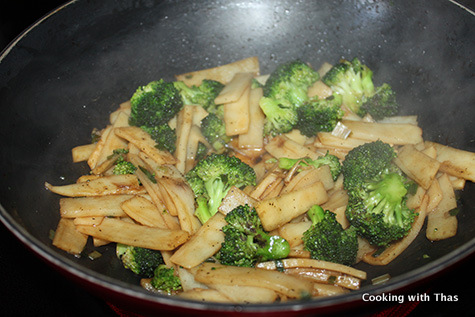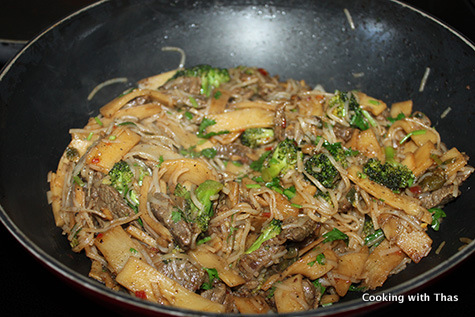 Beef Noodle Stir Fry
Ingredients
For stir frying Beef
Oil- 2 tbsp
Ginger, chopped small- 1 inch slice
Garlic, chopped small- 2 cloves
Green chilies, halved- 2
Beef strips- 1 lb or ½ Kg
Ground pepper- ¼ tsp
Soy sauce- 2 tbsp
Rice vinegar- 1 tbsp
For Stir frying veggies and noodles
Oil- 1 tbsp
Green onions, chopped- 1 stalk
Broccoli florets- 2 cups
Bamboo shoots- 1 can, rinsed
Oyster sauce- 3 tbsp
Fish sauce- 1 tbsp
Rice vinegar- ½ tbsp
Sambal Oelek or chili paste- 1 tsp
Cilantro, chopped- 2 handfuls
Lemon juice- 2 tbsp
Instructions
Cook rice noodles in boiling water till they turn soft. Drain water, rinse with cold water and keep aside. Do not over cook them.
Place a wok over medium heat, add oil.
Add ginger, garlic and green chilies, saute till ginger and garlic turns golden in color.
Add beef strips, season with ground pepper, soy sauce and rice vinegar. Stir fry over medium high heat till the beef has cooked well and starts to turn light brown.
Transfer the stir fried beef strips to a plate.
In the same wok, add 1 tbsp oil.
Add green onions, saute for a minute.
Add broccoli florets and bamboo shoots, stir fry for a few minutes.
Add oyster sauce, fish sauce, rice vinegar and sambal oelek.
Stir fry for a couple of minutes.
Add the cooked beef strips, stir fry for a minute.
Add rice noodles, stir fry for a couple of minutes.
Drizzle lemon juice and add cilantro, stir fry for a minute.