Shrimp scampi linguine is a delicious Italian-American pasta dish that features succulent shrimp cooked in a flavorful garlic and butter sauce, typically served over linguine pasta.
It's a simple yet elegant dish that's popular in many restaurants and can also be prepared easily at home.
Scampi in Italian means shrimp. A popular seafood pasta dish known for its rich and zesty flavors.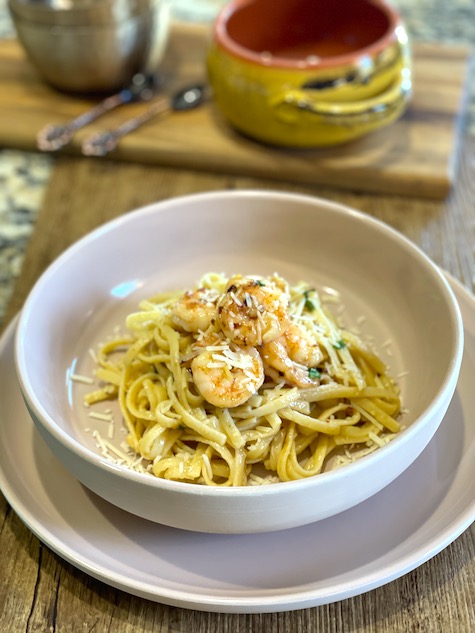 Shrimp Scampi Linguine | Italian-American Pasta Dish
Ingredients
Shrimp, shelled & deveined- 25
Paprika- 1 tsp
Ground black pepper- ¼ tsp
Salt- 1 tsp
For cooking
Butter- 3 tbsp
Garlic, minced- 3 tbsp
Dried red chili flakes- 1 tsp
Lemon zest- of 1 lemon
Lemon juice- 2 tbsp
Pasta water- ¼ cup
Linguine pasta, cooked- 225 g or 8 oz
Cooked shrimp
Parmesan cheese- 1 cup
Parsley, chopped- 3 tbsp
Instructions
Cook the linguine: In a large pot of salted boiling water, cook the linguine according to the package instructions until it's al dente. Drain the water & save ¼ cup pasta water. Keep it aside.
Prepare the shrimp: Season the shrimp with paprika, salt and ground black pepper. You can literally add any of your favorite seasonings, maybe Italian seasoning.
In a large skillet or pan, add 1 tbsp olive oil. Add the shrimp and cook till both sides have cooked well. Remove the shrimp from the pan and set them aside.
Make the sauce: In the same skillet, add the remaining 3 tablespoons of butter and minced garlic. Sauté the garlic for about a minute until it becomes fragrant, but be careful not to let it brown.
Add red chili flakes, saute for a few seconds. Don't burn the chili flakes.
Stir in the lemon juice, lemon zest, combine well.
Add the cooked shrimp back to the skillet and toss them in the sauce to heat through for a minute or two.
Add the reserved pasta water. Combine well.
Add the cooked linguine to the skillet and toss everything together until the pasta is well coated with the sauce and the shrimp are evenly distributed.
Add the parmesan cheese & toss well.
Garnish with chopped parsley.
Divide the shrimp scampi linguine among plates.
Garnish with grated parmesan cheese if desired.
Serve hot and enjoy.