Cripsy pakoras with shrimp, perfect snack for any day…
Pakoras are a popular Indian snack or appetizer that consists of onions, mixed veggies, or minced chicken mixed with a batter made from chickpea flour and spices and then deep-fried until crispy.
The other day I made shrimp onion pakoras. Shrimp pakoras are not that common in India; chicken, onion or vegetable pakoras are the popular ones.
I love shrimp so I decided to try with it; finely chopped onions, and shrimp mixed together along with all-purpose flour, rice flour, salt, and water. The mixture is then dropped by spoonfuls into hot oil and fried until crispy and golden brown.
I served the shrimp onion pakoras with tomato ketchup, can be also enjoyed with chutneys or dips, such as mint chutney or tamarind chutney. These pakoras have a crispy texture and delicious flavor, with the shrimp adding a unique and savory taste to the pakoras.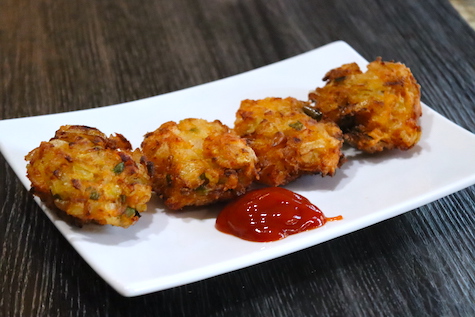 Shrimp Onion Pakoras or Fritters | Indian Snack
Ingredients
Shrimp- 12, chopped small
Onion, chopped small- 2 medium-sized onions
Ginger, grated- 1 tsp
Green chilies, chopped- 1 or 2
Curry leaves, chopped- 8 leaves (optional)
Chili powder- 1 tsp
Turmeric powder- ⅛ tsp
Garam masala- ½ tsp
Salt- 1 tsp
All-purpose flour- ½ cup
Rice flour- ¼ cup
Cilantro, chopped- 3 tbsp
water- 3 tbsp
Instructions
I've taken large-sized shrimp, hence chopped it into small pieces.
To a large bowl, add all the above-mentioned ingredients along with 3 tbsp water to bind the mixture.
I've added all-purpose flour, you can also add gram flour or chickpeas flour, or besan instead.
Place a frying pan over medium heat, add enough oil for deep frying.
Using your fingers (or use a spoon) take some of the pakora mixture, can be shaped into a round shape & drop it into the hot oil.
Fry till golden brown in color.
Transfer to a plate lined with a kitchen paper towel.
Enjoy the delicious pakoras while they are hot along with tomato ketchup or mint chutney.