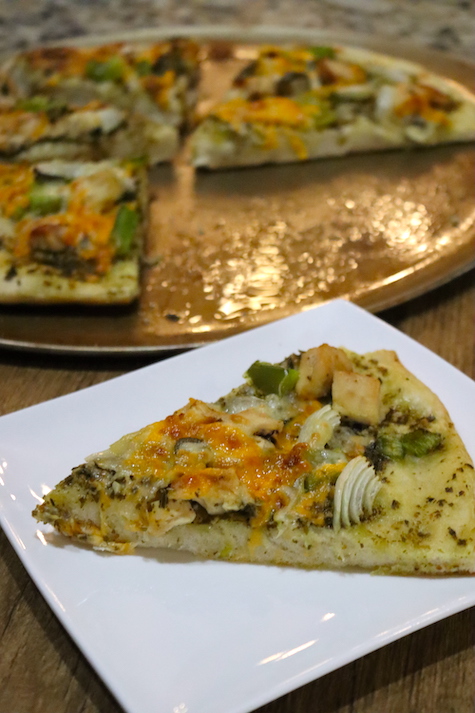 Hands down, this is the best-tasting pizza.
I've been following this recipe for making pizza crust from scratch for many years & I absolutely don't need another recipe. This is the best recipe & the crust turns out awesome every single time. I proof the pizza dough in my Instant Pot yogurt setting.
I love basil pesto & that's the spread I always use on my pizza crust. After baking the pizza, I also broil it for a couple of minutes which will make the cheese golden brown. Do follow this recipe & you'll be seen enjoying the most incredible pesto pizza.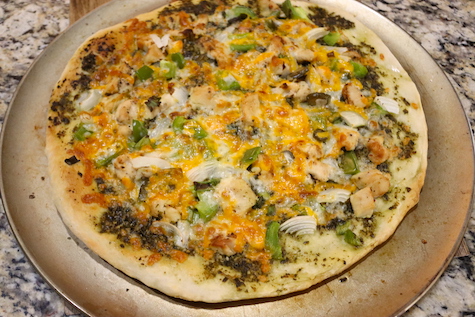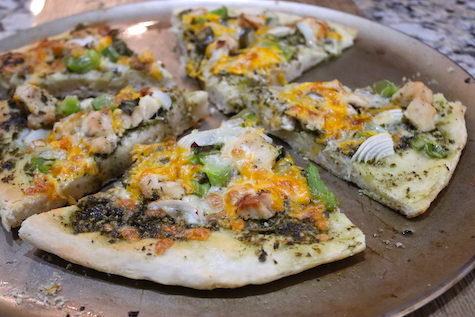 Gourmet Pesto Chicken Pizza With Homemade Pizza Dough
Ingredients
For making 1 large thin pizza crust
All-purpose flour- 2 cups
Dry active yeast- 1⅛ tsp
White sugar- ¼ tsp
Warm water- ¾ cup
Salt- ½ tsp
Oil- 1 tbsp
Toppings
Basil pesto spread
Green or red pepper
Sliced onions
Green onions
Pickled jalapenos
Cheddar & mozzeralla cheese
Instructions
Making pizza dough
In a bowl, combine yeast, warm water, and sugar, let stand for 10 minutes.
After 10 minutes, add the salt and oil to the yeast mix.
In a large bowl, pour the yeast mix and slowly add the flour; knead for 10 minutes.
Knead the dough well, it should be soft and smooth, don't add too much flour and make it a hard dough.
I've proofed the pizza dough in the Instant Pot yogurt setting.
If you live in a warm place, place the dough on the countertop & let proof for an hour. Or preheat the oven to the lowest temperature for 5 minutes & turn the oven off & keep the dough in the oven for an hour.
Grease the Instant Pot stainless steel pot with oil.
Place the pizza dough into the pot.
Cover the pot with the lid.
Select Yogurt setting, set the time to 1 hour at medium temperature.
After an hour, pizza dough will double in size & will be well-proofed.
Grease a pIzza pan with oil.
Place the dough & flatten to a round shape.
Let rest for 15 minutes before topping.
Preheat the oven to 425 F or 220 C.
Spread the pizza dough with basil pesto spread.
Top with veggies of your choice. I've added green peppers, sliced onions, green onions, pickled jalapenos.
Spread cheese, a mix of cheddar & mozzarella cheese.
Place the pizza pan in the preheated oven.
Bake for 20 minutes.
After 20 minutes of baking, take the pan out of the oven.
I also broiled the pizza which will make the cheese golden brown.
Turn on broil setting at high temperature, let the heating elements turn red.
Place the pizza pan under the heating element & broil for 2 minutes till the cheese turns slightly brown.
Keep an eye as it will be super hot & the pizza can burn if broiled for more than 2 to 3 minutes.
Take the pan out of the oven.
Using a pizza cutter, cut into wedges & enjoy.