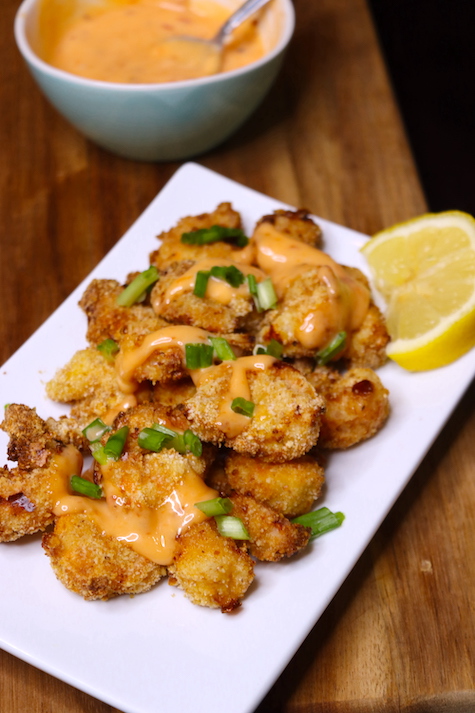 Crispy breaded shrimp drizzled with a creamy, sweet & spicy sauce…
This is a perfect appetizer made with shrimp & super easy to whip up. The sauce is the main highlight of this dish- mayo, sweet chili sauce & sriracha mixed together. It's a creamy, sweet & spicy sauce along with crispy shrimp our tastebuds will be in delight while enjoying this.
I made the healthy version by air frying the breaded shrimp, the shrimp turned out super crispy. This can be also deep-fried or baked in the oven.
Creamy, sweet & spicy sauce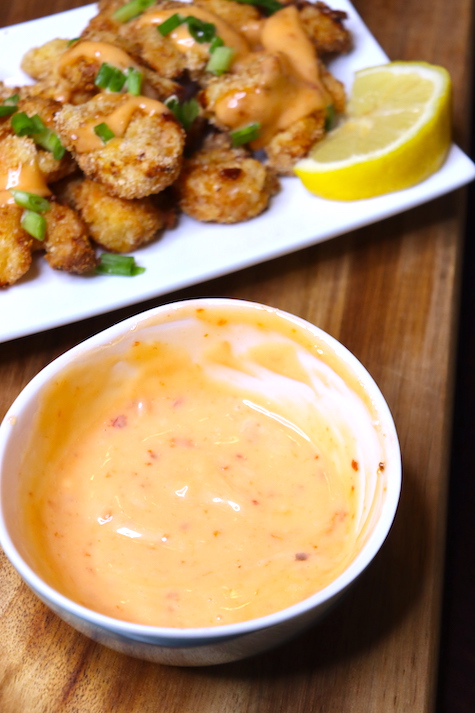 Easy Bang Bang Shrimp - Air Fryer Recipe
Ingredients
Shrimp, deveined & shelled- 20
Egg- 1
All-purpose flour- ¼ cup
Salt- ¼ tsp
Panko breadcrumbs- 1½ cups
Green onions, chopped- 1 stalk
Oil or non-stick cooking spray
For making the sauce
Mayonnaise- 1 cup
Sweet chili sauce- ¼ cup
Sriracha sauce- 1 tsp
Instructions
Use deveined & shelled shrimp.
To a bowl, crack an egg & beat well using a whisk.
Combine all-purpose flour & salt & spread on a plate.
If you prefer you can combine flour with other seasonings like garlic powder, paprika, etc.
Spread breadcrumbs on a plate, regular breadcrumbs can also be used. Panko will be the ideal breadcrumb.
First, coat the shrimp with the flour, then dip in the egg & then coat with the breadcrumbs.
Place the breaded shrimp in the air fryer basket without crowding.
Drizzle 1 tsp of oil over the shrimp or spray with non-stick cooking spray.
Close the air fryer.
I've set the temperature to 400 F or 200 C, time 10 minutes.
After 10 minutes of air frying, flip the shrimp over & air fry for another 5 minutes.
The shrimp will turn super crispy.
Transfer to a plate.
In a bowl combine the ingredients for making the sauce.
Drizzle over the crispy shrimp.
Garnish with chopped green onions.
Bang bang shrimp has to be enjoyed right away while it's warm & crispy, dip in the sauce & enjoy the crispy goodness.
Double or triple the ingredients for making a large batch. This is a perfect appetizer for parties & get-togethers.